In this digital age it's absolutely essential for your business to have an online presence, as this is where the audience is. No matter the industry you operate in, your business is bound to have an online presence whether you're consciously doing something about it or not.
Outsourcing your web development can relieve you of a burden, but outsourcing can be tedious and time consuming process. You're responsible for vetting different vendors, in an era when just about anyone can claim to be a an expert.
Customer reviews can help you in the vetting process, by validating the legitimacy of service providers. This is where Clutch steps in. Clutch is the leading worldwide provider of B2B ratings and reviews. By collecting verified client feedback, Clutch's rankings make it easy for trusted B2B service providers to connect with businesses.
Clutch recognizes Graffino as a one of the "Top Romanian Development Companies"
Since 2014, Graffino has helped hundreds of business execute on their product vision from start to finish – plan, design, development and deployment. By combining heavy web development expertise, with a relentless focus on planning and execution processes, we are able to develop unique products quickly and reliably. We have a passionate, dedicated team, renowned for delivering qualitative product experiences. If you are one of the many companies looking to increase tech spending in 2020, we would love to help you build your next big thing.
Our clients say we deliver on Clutch, and Clutch just recognized us as a "Top Romanian Web Development company". We're also proud to feature on The Manifest, Clutch's sister site, a research hub and articles website that shows off company ratings.
In a recent project featured on Clutch, we provided branding and web development services for a tax consulting company. We created their new brand, created a stunning online presence and integrated a complex JavaScript refund calculator.
Their loved our methodic approach and focused workflow: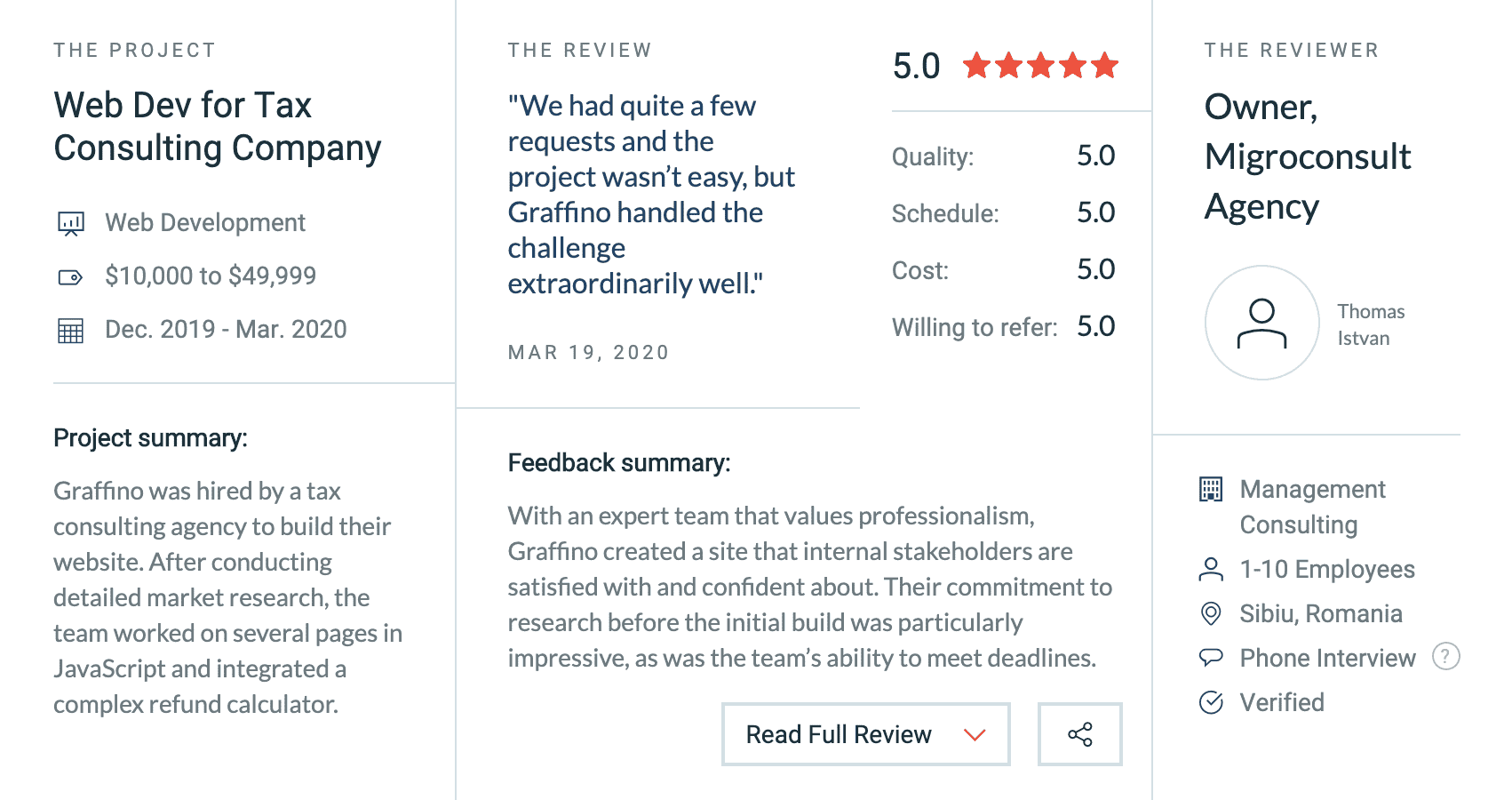 "In one word, professionalism. They're experts in their field, and the team is up to date with all of their technology. Graffino introduced us to so many new possibilities, and our experience working with them was just excellent… Take advantage of their willingness to conduct research, and take the time to explain the mission, values, and long-term goals of your company so they can take you in the right direction." — Owner, Migroconsult Agency
In another recent collaboration, we develped the online platform for a growing startup that develops software for the greenhouse industry. Integrating with their existing technology stack and leveraging new technologies we provided a custom fit experience for them, all in a tight deadline.
Here's how they described our collaboration: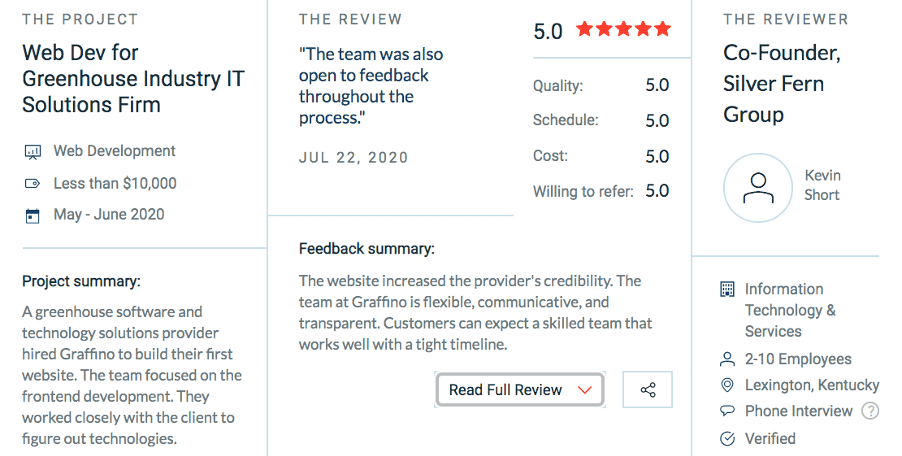 "The website increased the provider's credibility. The team at Graffino is flexible, communicative, and transparent. Customers can expect a skilled team that works well with a tight timeline." - Co-Founder, Silver Fern Group
Our latest project is always our best work.
We take most pride in our team's hunger for continuous improvement, and in the select, long lasting partnerships we've built during the years.
If you are looking to start a development project, feel free to contact us today via email or phone. We'd be happy to help you transform your business!